Posted by
Aug 25, 2012
in
Android
|
2 comments
on
With Google Listen hitting end of life, it's time to hunt around for a decent alternative Podcasting app to replace it. I've had a look at a few, but found one that I really like, Podkicker Pro. If you're in the market for a Podcasting app, it's $3 well spent!
What's to love? First of all, it will slurp in your existing Google Listen feed directly from Google Reader. Loving that already.
Secondly, it handles the "new episodes" problem as an integrated timeline. This is just awesome for me. I've always hated going into each channel to see the new episodes, I'd rather just see what's new in the last few days and pick and choose what I want from there.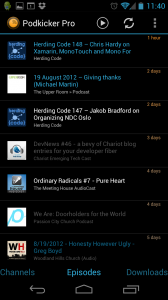 Links change colour based on whether they have been downloaded/played, so it gives you a really great quick view of what's likely to interest you.
The third reason I really love it is that the "Car Mode" is perfect for my common use case (steering whell icon in the top right). I can put in on the in the car on the way to work and get quick access to progress, jump back and forward 30 seconds, all with a giant interface that you can't miss.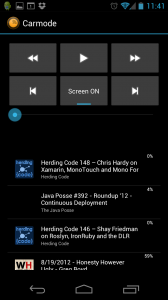 On top of all that is offers the standard download feature (only download when on wifi, always download these eps, etc).
So there's plenty to love. I've been giving it a workout over the last couple of weeks and I remain a massive fan. If you've after a lean and mean podcasting app that runs fast with an intuitive UI, this is the one to bet on!
Happy Listening!
Glen.